​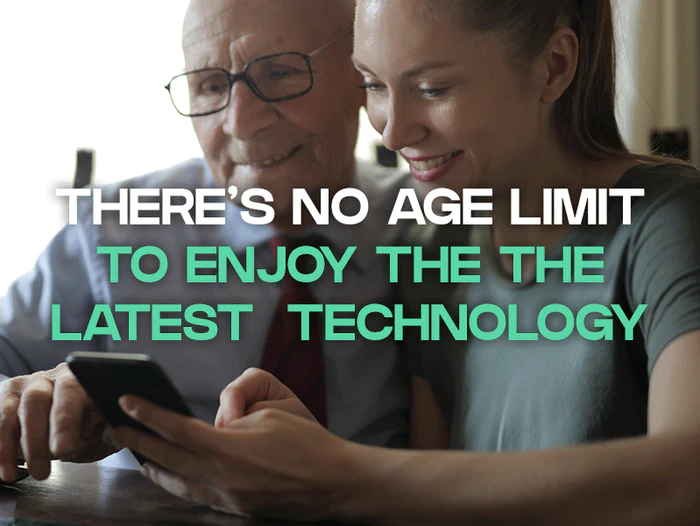 The technology generational gap has been closing rapidly than ever before as we see more older people adapt to modern technology. 
In a society where landline connections are becoming a thing of the past and mobile phone technology and the internet is needed to perform everyday tasks, 65% of over 65s in the UK have had to make the switch to becoming a smartphone user. 
This switch is however not an easy one. 
Smartphones are packed with a plethora of features that are beneficial to all generations, but a little more difficult for older generations to acclimatise to. The complicated Apps, interface and sheer size of the internet leaves some feeling less confident about using smartphones and unable to enjoy all of the benefits.
So how can we make technology usage more inclusive for the older generation? 
Jelikatu- 58 years old.
"I currently use a Samsung Galaxy S20, I have been using it for 2 years and it was only last year that I learnt how to send emojis in my text messages. My daughter was very surprised and I felt really excited to show my mood and emotions through emojis.
There's always something new to learn about my phone, I use WhatsApp a lot to stay connected with my friends and family and there's always a hidden feature that my daughter teaches me to use.
One thing that has made me feel more comfortable with using these new technologies is the patience my daughter has answering my questions and teaching me new things. This is not the technology I used when I was 25 so her patience makes me feel more confident and not like a burden."
Mustapha- 67 years old.
"Growing up in my time, there was no such thing as a smartphone. 
I got my first smartphone when I was 40 years old and at that age, learning new technology becomes a little harder. And technology has only advanced even faster since then.
The main thing that has made me feel more comfortable using modern technology now are Youtube videos teaching us how to use certain features on phones.
I currently use an iPhone 12 Pro and when I got it, I found a Youtube video that took me step by step on setting it up. And whenever I want to do something or there is an App that I am curious about, I search for it on Youtube and follow the steps in the video. 
Resources teaching us how to use new technology has increased my confidence in using mine."
A common response from the older people interviewed for this article is the need for patience and resources while they adapt to the new technology. 
This patience and "how to" videos makes it possible for everyone to have access to some of the greatest technology available in the palm of our hands with benefits such as:
Health benefits: With the 'fall detection' feature on the Apple Watch and the Health App on most smartphones, modern tech puts our health in our hands. Regardless of age, we can easily access our medical information, call for help automatically and monitor bodily functions for a better, healthier life.
*** Entertainment: Relaxing after a long day of work is essential for a balanced lifestyle. Smartphones and the internet have made accessing media easier anywhere, whenever. With a catalogue of over 75 million songs on Apple music alone, and the endless streaming services available for movies and TV shows, unwinding has never been made easier for everyone.**
Capturing memories: In a digital world that makes physical photo albums less reliable, capturing memories and saving them on the cloud for future access is more trustworthy, with more capacity and availability for different file types unlike the traditional paper photo albums.
Although more older people are now using smartphones, it is still a collective effort of the generation more accustomed to it to patiently share resources and teach them the ways of new technology, so that we can all enjoy the benefits of modern smartphones.
Sell your device
Sell your preloved devices instantly at the best price on the market with same-day payment!
Sell Now